If I had to describe this film in one word, it would be beautiful. The cinematography is breathtaking, the locations sumptuous and costumes rich in their design and detail.
A standout performance comes from the mesmerising Emily Blunt, who plays Victoria as a sensitive yet formidable young woman; one minute she is painting a portrait of her beloved Cavalier King Charles Spaniel, Dash, the next she is demonstrating her unrelenting refusal to yield to the wishes of the self serving Sir John Conroy (Mark Strong), demanding a regency which would see him effectively rule through Victoria's mother, The Duchess of Kent (Miranda Richardson). Rupert Friend too, is enchanting, and bears a striking resemblance to Prince Albert, who turns into Victoria's very own Prince Charming as the film unfolds. He whole heartedly assumes the role of Albert, much as in the film when Albert himself whole heartedly commits to learning to waltz, much to Victoria's delight.
Jim Broadbent's star turn as King William strikes the right balance between hilarity and formidability and Paul Bettany is suitably strong (if a little Machiavellian as he assumes influence over Victoria in her early reign) as Lord Melbourne. Julian Fellowes' screenplay engages, meandering through the birth of Victoriana amiably and adeptly and succeeds in presenting a side to Britain's longest reining monarch that is rarely remembered. Through presenting Victoria's unrelenting love for Albert, we begin to understand why she mourned him so deeply when he died, leaving her alone to navigate a world of political pitfalls, industrial transformation and social reform and becoming an icon in the process.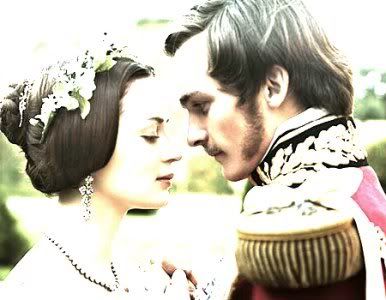 (Photo credit: Google Images)