A little later on in the year I'll be going to my first wedding! One of my loveliest friends is getting married in Cambridge- and I'm really looking forward to it. No surprises, I've already started shopping around for potential outfits, and it seems that this time of the year is perfect for picking up plenty of occasion dressing inspiration. So far I've been umming and aahing over plenty of pieces, and a pretty little selection has made it into my shopping shortlist: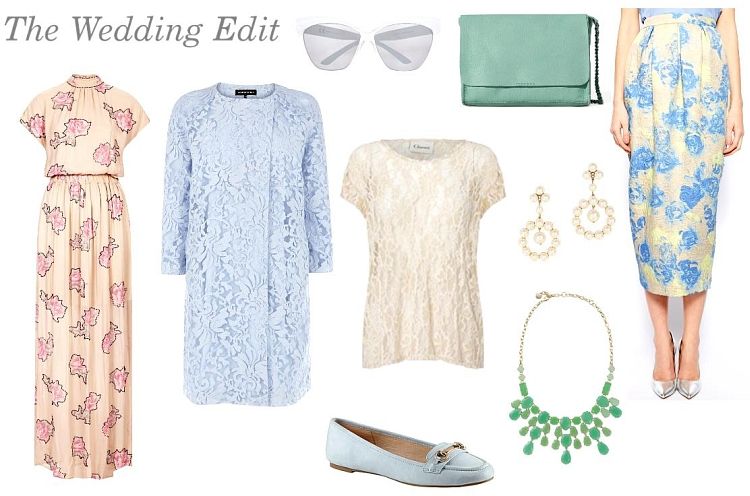 Limited Edition Rose Embellished Maxi Dress, £180, Topshop/Blue Lace Coat, £100, Warehouse/White Winged Sunglasses, £13, River Island/Leather Messenger Bag, £25.99, Zara/Washed Floral Jacquard Skirt, £50, ASOS/Pearl Circle Drop Earrings, £75, J.Crew/Mixed Green Stone Statement Necklace, £115, Stella & Dot/Lace Top, £85, Ganni/Light Blue Flats, £55, Aldo.
Whilst a maxi dress might not be an ultra practical choice for someone who is constantly tripping over their own feet (hello!), this beautiful design from Topshop immediately caught my eye. I love the pale peach colour, and the embellished details add the perfect touch to take this piece from day to night. As we know from my last few outfit posts, my habit of adding to my coat collection is showing no signs of abating, and this design from Warehouse is the perfect addition to any summer wardrobe. Not only does the pastel blue make it seriously trendy (as well as almost universally easy to wear), it's also a really elegant investment, with the lace detailing evoking a really sophisticated aesthetic. As well as being something of a self confessed coat collector, I've also developed a soft spot for statement sunglasses, and this pair from River Island offer the perfect nod to a more retro style as well as being a practical addition to any accessory collection.
With accessories in mind, this bag from Zara is another one to add to the shopping list- simple, small and subtle; ideal for accommodating all of the essentials you might need for a special occasion. This skirt from ASOS has been on my wishlist for a little while, and is the perfect statement piece to build an outfit around. The pastel pattern is lovely trendy touch, and I can imagine this working really nicely with a block colour top and co-ordinating accessories. Jewellery wise, I'm feeling really inspired by J.Crew's simple, elegant earrings, and as always Stella & Dot have come up trumps on the statement necklace front. This lace blouse from Ganni is the ideal basic for teaming with some bolder pieces, and it's also something which you'd definitely get plenty of continued wear out of, don't you think? Finally, as far as footwear is concerned, it will probably come as no surprise that I'll be focusing on flats- and this pair from Aldo are firmly at the top of my shopping list!
Do you have any summer weddings on the horizon?
(Image credit: Topshop, Warehouse, River Island, Zara, ASOS, J.Crew, Stella & Dot, Ganni & Aldo.)